COCC-11777: Sailor Moon S Music Collection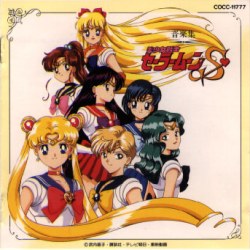 # of tracks: 15
Release Date: 1994.06.21
Seihai, Kyuuseishu...Shinpi Naru Sekai
Subtitle
Asa no Namikidou
Death Busters No Yabou
Tenou Haruka to Kaiou Michiru
Koi Suru Otome Ha Tomaranai!
Daimon Sutsugen
Eyecatch
Ubawareta Junsui Na Kokoro No Kesshou
Senshi no Shukumei...
Henshin! Sailor Senshi
Uranus, Soshite, Neptune
The Pretty Soldiers' Big War!
Ai no Tsuiseki
Raishuu mo Mitene!
<- Back to CD Page